Anti Wrinkle Skin Cream
The affects of aging is one reason to use an anti wrinkle skin cream. Prevention is another reason both men and women use skin creams to reduce and prevent wrinkles from forming.
Vitamins
Vitamins are good for your health and finding an anti wrinkle skin cream with vitamins is easy. The three most common vitamins that are added to skin creams are Vitamins E, A and C.
Vitamin C is an antioxidant that helps reduce the effects of stress, indoor and outdoor pollution and the affects of aging.


Vitamin E has long been used to help heal the skin by providing moisture and protecting new skin.

Vitamin C increases the ability of Vitamin E to work effectively and to help skin repair itself.

Vitamin A is what retinols are made from and retinol is used in many types of skin care products including wrinkle creams and anti aging products.
Some companies only add a small amount of these vitamins to their skin care products. Vitamins used in cream formulas for skin care need to be large quantities, so look at the ingredient list to be sure that these vitamins are listed in the first few ingredients.
The FDA requires companies to list the ingredients in cosmetics starting with the ingredient that the product has the most of followed by the second largest component, and so on. If these helpful skin care vitamins are listed last, you will know that the quantity is too low for them to be effective. Skin care can be a large part of any budget so be sure you are purchasing a quality product.
Cleansing the Skin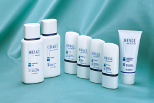 Before any anti wrinkle skin cream can be effective the pores of the skin must be clean and open. Dermatologists recommend that gentle cleansers be used on the face. Facial skin is not as thick as the skin on the hands or legs. Facial skin is exposed to wind, the sun's ultra violet rays, air borne pollutants, harsh chemicals, allergens and indoor pollutants as well. Over time, this can affect the ability of the skin to repair itself by using gentle cleansers that remove dirt from the pores without stripping the skin of its natural emollients helps to prevent premature aging and the development of wrinkles.
Cetaphil Daily Facial Cleanser is an inexpensive product that has been endorsed by Good Housekeeping as well as dermatologists. This product does contain a fragrance, which for some people can irritate skin.


Philosophy Purity Made Simple One-Step Facial Cleansers will remove all types of make up and it contains plant oils. Some consumers report that this product had a drying effect but unlike Cetaphil removed heavy eye make up.


Olay, La Prairie, Hydroderm and Neutrogena offer gentle skin cleansing products many of which are skin type specific. Many of these manufacturers also produce cleansing cloths that help reduce abrasion on delicate facial skin.
Whichever cleanser you choose be sure to read the instructions. Applying an anti wrinkle skin cream once the face has been cleansed allows the skin to absorb the beneficial, healing emollients.
Moisture
All skin needs moisture especially facial skin and hands. Developing a daily routine for cleansing and moisturizing will help prevent premature skin aging and wrinkles. Anti wrinkle skin cream used as a moisturizer will provide facial skin with the building blocks necessary to repair damaged skin cells, replace collagen that is lost due to age or environmental factors and occasionally illness and provide a protective and soothing barrier.
All skin needs moisture including men and children. There are many skin care products created just for men on the market today. Many companies offer complete men's skin care lines and anti wrinkle skin cream. Some of these special moisturizers and cleansers are fragrance free and formulated to repair the skin damage caused by shaving, exposure to the sun, wind and chemicals.
Sephora offers LAB Series pre and post shaving moisturizers


Lancome offers men cleansing products, moisturizers and anti wrinkle firming cream


Neutrogena, Olay and Cetaphil can be used by both men and women.


Anti wrinkle skin creams formulated for men are included as part of an overall skin care regiment by La Prairie, L'oreal, and Olay.
Problem Skin

Some people are blessed with clear healthy skin while others have to contend with acne breakouts all their lives. Diet, exercise and a good facial cleanser may not always be enough however using a specific cleanser such as Phisoderm Anti-Blemish Gel Facial Wash or a prescription strength cleanser may help people overcome severe acne problems. These types of products can strip the skin of emollients applying a moisturizer after cleansing will be helpful. Choosing an anti wrinkle skin cream as your moisturizers puts you a step ahead in the wrinkle war.

Choosing a quality anti wrinkle skin cream that is effective and affordable may require some research. Using one the many skin evaluations provided by skin care product manufacturers allows customers to find the right products before they make their choice.
Return to Anti Wrinkle Skincare
Return from Anti Wrinkle Skin Cream to Home
---
New!

Comments

Please, leave a comment in the box below.