La Prairie Skin Care
La Prairie skin care is exquisite and exclusive - but does it work?
La Prairie's stunning packaging and luxurious image makes it one of the most desirable wrinkle remover creams in the world. However, given the hefty price tag, women need to know if La Prairie actually works?
The answer is yes, but there are caveats.
For example, as with any other wrinkle remover cream, different women get different results, and so La Prairie works much better for some of us than others.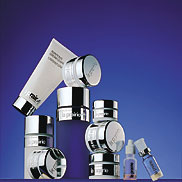 Also, independent research from Consumer.org has confirmed what many of us learned a while back - in scientific testing, La Prairie was out-performed by much cheaper products, including Olay Regenerist which you can pick up at Publix for $19.
These tests compared La Prarie Cellular to a variety of other brands, including other prestige products, cheap drug store lines, and new, medically hyped "cosmeceuticals".
At around $200 a jar, La Prairie Cellular was actually rated "slightly less effective" and finished in the bottom third of the field.
See research on La Prairie Skin Care
La Prairie Cellular Cream Platinum Rare

La Prairie have a new flagship product - the most expensive wrinkle remover cream in the world. At $1,000 a jar it is, according to La Prairie, "the apex of science and luxury".
Of course at $1,000 it needs to have a heck of a lot going for it, so La Prairie also throw in "handcrafted packaging with the grace and power of sacred geometry".
There is no third party technical literature that backs up the claim that platinum, when applied topically to the skin, has any benefits at all. Until some evidence gets published, $1,000 a jar seems like too big a risk, even with the sacred geometry.
La Prairie Platinum - the world's most expensive skin care
La Prairie cosmetics
La Prairie cosmetics have a lot in common with La Prairie skin care in general - elegant, exquisite packaging, a luxurious look and feel, a loyal following of customers, and steep prices.
Perhaps the stratospheric prices are justified given the outward opulence of the products. Also, there is no doubt that some of their foundations, powders, lipsticks and mascaras are both lovely and effective. It is just that they are not THAT effective.
And please don't get me wrong - I am NOT saying you should forgo luxury - just splurge on something that works! A great example of an incredibly beautiful, indulgent product that is immediately effective (and still less than half the price of La Prairie) are the stunning Elizabeth Arden Ceramides.
My La Prairie confession . . .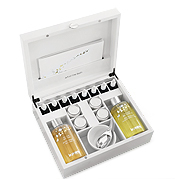 Wanna hear a secret? Even after all the research, the scientific evidence, everything I have learned about skin care, and the fantastic results I am getting from my $19 Olay Regenerist, I still lust after La Prairie.
Sure I know better than to blow $400 on a below-average wrinkle remover cream, but when I see products like the stunning La Prairie Art of the Bath, I must admit I do salivate.
The problem is that there is simply too much fabulous make-up at a fraction of the price to take La Prairie cosmetics seriously.
Return from La Prairie Skin Care to Home
---
New!

Comments

Please, leave a comment in the box below.