Elizabeth Arden Ceramides
Elizabeth Arden Ceramides are an exquisite product that convey a fabulous sense of luxury and sheer enjoyment. Plus, they are great for your skin.
As regular visitors to this website will know, we emphasize value for money products that get excellent results such as amazing drugstore lines like Olay Regenerist.
Our usual stance towards expensive, super-hyped, "luxury" brands is one of skepticism, and if you make big claims, you better show me the science.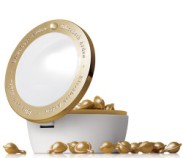 However, I gotta say
I LOVE CERAMIDES!
Of course, I am not the only one. They get a unanimous 5 star review from consumers on big, transparent sites like Amazon. Even the frequently caustic and cynical "Cosmetics Cop" Paula Begoun rates this as an "excellent" product.
She attributes the power of this product to "a very effective roster of ingredients".
These ingredients include:
Antioxidants, especially vitamin A and vitamin E.


Ceramides! This is where the skin restoring comes in. Ceramides are naturally occurring skin fats known as lipids. They are an integral part of the skin's barrier system. By restoring this barrier ceramides assist water retention and cell regulation, leading to that smooth, plumped, younger look.


State of the art moisturizers, emolliants, and cell delivery assistives.


Sometimes what gets left out is important as well. The capsules are fragrance free and preservative free, so it is no wonder that sensitive or even irritated skin with eczema or rosacea just love this stuff.
The packaging is not just beautiful, it is also highly practical. Ceramides are presented as golden capsules, each one containing a single, potent dose. This way you dispense exactly the correct amount, and the rest is perfectly preserved.
The capsules are sealed for purity but are easy to open - you simply twist off the tab.
They can be used either morning or evening and do not feel greasy or look shiny. Instead, they absorb quickly and have a fabulous silky feel.

Another welcome feature is that the capsules improve skin tone as well as skin texture.
Don't discount this product just because you are still young.
I am in my late forties and so I really NEED anti aging products. Also, I am old enough to nurse a special affection for Elizabeth Arden. Her legendary 8 hour cream was the first skin care product I fell in love with, more years ago than I care to admit. But this product is definitely not about nostalgia or papering over the cracks.
The whole point of Ceramides is the way they work to support your skin's natural collagen levels. In other words, they SLOW AGING - start using these down and you will actually delay the aging process by staving off the breakdown of your skin barrier.
Top rated anti wrinkle creams

So do Elizabeth Arden Ceramides make it onto our list of top rated anti wrinkle creams?
Yes!
This is one of those rare finds - a product that performs as advertised, and that provides immediately noticeable results.
At $68 for 60 capsules the price is clearly in a different league to Olay, but cheap relative to products like StriVectin and Obagi. And you can FEEL the luxury. Rather than a huge extravagance, this is more like an affordable indulgence that is great for your skin and your confidence.
Elizabeth Arden Ceramides are, as far as we can tell, far more effective than La Prairie, and every bit as elegantly packaged and even more sumptuous and sensual to use. At $68 compared to $1000 a jar for La Prairie Platinum, they actually seem a bargain!
Return from Elizabeth Arden Ceramides to Highest Rated Wrinkle Cream
Return from Elizabeth Arden Ceramides to Home
---
New!

Comments

Please, leave a comment in the box below.