Obagi Nu Derm Clear
Obagi Nu Derm Clear is intended to make skin look younger and healthier.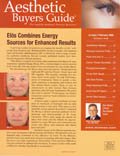 The Nu-Derm system is characterized by the combination of tretinoin and hydroquinone - a powerful acidic form of vitamin A for reducing wrinkles and a potent skin lightener.
It is a leading edge anti-aging formulation that claims to:
Decrease age spots and other signs of sun damage.


Reduce fine lines and wrinkles.


Increase elasticity and firmness.


Promote natural skin hydration.
Clear is formulated with 4% hydroquinone - the recommended concentration to improve uneven skin color and fade age spots.
Hydroquinone reduces the production of melanin. It is known as an effective lightner, but the way it works is by stopping the production of skin pigment - not by "bleaching" the skin.
Obagi Nu Derm Skin Care

This particular Obagi system starts with powerful exfoliation to remove surface layer of the skin - typically where sun damage will appear.
It also stimulates production of collagen and elastin to plump, firm, and hydrate the skin.
Prevention of further damage is achieved through the use of Obagi Nu-Derm maintenance products such as Healthy Skin Protection SPF 35.
Obagi tretinoin
What is special about Nu Derm Clear is the combination of tretinoin and hydroquinone.
We have discussed above the importance of hydroquinone as a skin lightener to even out skin tone and reduce age spots and so on.

The second part of the equation is the tretinoin.
Tretinoin is the acidic form of vitamin A. It is well known in the skin care industry as the critical active ingredient in Retin-A.
As well as reducing signs of sun damage, tretinoin has been proven to work deep below the skin's surface, within the dermis itself to improve cell production and actually prevent any further damage.
Return from Obagi Nu Derm Clear to Home
---
New!

Comments

Please, leave a comment in the box below.
[an error occurred while processing this directive]