Obagi Skin Care Products
Obagi skin care products are some of the best anti-aging items to hit the market in a while. The line offers a variety of products to deal with different skin care needs. Each item in the line helps to renew skin so that it looks fresher and healthier. Best of all it works faster than many other skin renewing and anti-aging treatments when it is used the right way.
Skin that shows signs of aging with wrinkles and spots, that has blemishes resulting from acne, and extreme dryness will benefit from this range of beauty treatments.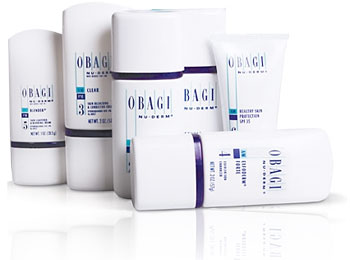 The effects of smoking such as fine lines around the lips, and dull, tired-looking skin is the bane of many women. Many people report improvement after using these products for a short time. Following the instructio9ns is necessary if the treatments are to work, and this includes combining the right products. It is also important to observe the guidelines on the frequency of use and dosage.
This product line works for all skin types and all ages making it a top choice among women worldwide. In addition to the items below, the range also includes a décolleté cream for the neck and chest area as well as an eyelash treatment. The décolletage treatments helps minimize age spots in this often overlooked part of a woman's body. With the lash treatment, one can expect fuller looking lashes.
Types of Obagi Skin Care Products
Knowing that everyone's skin care needs are different, the makers of Obagi skin care products made sure to offer treatments that will meet the needs of individuals. Currently, this line includes the following:
Obagi Blue Peel System: Getting a professional peel is the first step before applying the Blue Peel treatment to give skin a brand new look.


Obagi-C Rx System: Collagen is important for healthy looking skin and the Rx System works to encourage production of collagen so as to keep skin looking younger.


Obagi Professional-C Serum: Sun protection is vital not just for healthy skin, but to ward off premature aging cause from exposure UV rays. This serum works to offer protection from ultraviolet light, one of the main causes of wrinkles and aging resulting from sun exposure.


Obagi Clenziderm M.D.: This product is great for people with acne and other skin blemishes.


Obagi Elastiderm: After a little more than two months use, this item will help minimize the look of fine lines and wrinkles. Some people refer to it as a Botox alternative.


Obagi Nu-derm: The specific aim of this item is to renew and revitalize skin by removing age spots and helping to heal sun damage. A visit to a professional is necessary to get the correct dosage information for your skin problems.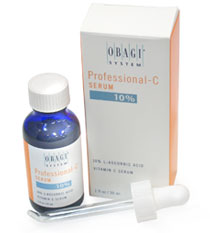 Like any other type of personal care items the time in which results start showing varies from person to person. While everyone wants a quick fix, this is dependent on the extent of damage to the skin. If sun damage is severe, you will need to use the Obagi skin care products longer before seeing a change.
When it comes to fighting the effects of the hands of time on your skin, Obagi skin care products will help you get on track. If one product is not doing what you want, try another in the line as results vary for each skin type. Of course, you always need to do your part to get better results from any skin care treatment. Adequate sleep, a balanced diet, exercise and keeping the skin clean are all basic elements of good skin care. These lifestyle habits also help slow the aging process leaving skin less susceptible to wrinkling.
Return from Obagi Skin Care Products to Home
---
New!

Comments

Please, leave a comment in the box below.
[an error occurred while processing this directive]