Artistry Skin Care
Amway, a well-known multi-level marketing company, manufactures and markets Artistry skin care products. Amway began over 50 years ago and now boasts over nine billion dollars in annual sales of home, beauty and health care products. People wanting to purchase merchandise from Amway can go to their website or contact an Amway individual seller.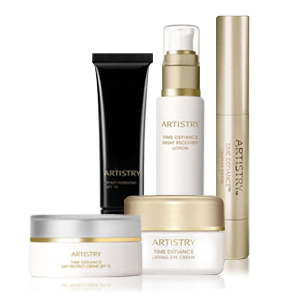 Skin care products sold under the Artistry label by Amway include:
Hydrating lotions, cleansers and toners for dry skin
Lotions for oily skin such as the Artistry Essentials Balancing Cleanser Toner Lotion
Products for sensitive skin with gentle cleansers and moisturizers
Anti-aging skin care products
In addition, the Artistry skin care line also sells a large variety of cosmetics and nail polish in over 500 different colors.
Artistry Time Defiance
Amway's Artistry Time Defiance skin care products are meant to inhibit premature aging signs caused by overexposure to sunlight, harsh climates and naturally dry skin. Wrinkle-reducing lotions and cleansers are made for any type of skin, oily, combination or dry, and do not contain retinol, which sometimes causes skin irritation.
Instead, Artistry Intensive Skincare Anti-Wrinkle Firming Serum fights signs of aging by stimulating collagen production using natural products such as soy compounds that do not exacerbate epidermal receptors like retinol has a tendency to do.
According to Amway, this new serum has been tested using cell cultures and shown to substantially increase collagen production. Collagen is a plentiful, structural protein found in the human body, especially in the skin, nails and hair. Due to its elastic properties, collagen gives the skin the ability to stretch without tearing.
Aging diminishes the amount of skin collagen we have, which is one of the reasons why we develop wrinkles and sagging skin. This particular Artistry skin care serum supplies the skin with its missing collagen, which helps reduce wrinkling.
Artistry Pure White Skin Care Products
These lotions and creams are meant to gradually diminish and eventually eliminate skin discolorations such as age spots, freckles and other various blemishes. Amway's Artistry Pure White Skin Care products will "whiten" the affected area and even out your skin tone. Some of the products included in this special line include:
Pure White Cleanser and Moisturizer
Pure White Toners
Pure White Creams
This Artistry skin care product also alleviates dermatitis patches on the face and leaves skin feeling fresh and smooth. However, individuals with darker complexions are advised not to use this product.
Intensive Skincare Renewing Peel
As an alternative to chemical peels performed in a dermatologist's office, Amway's Intensive Skincare Renewing Peel allows professional results using a natural mushroom extract to exfoliate the skin. Made for all skin types and used twice a week for six weeks, this skin peel serum is supposed to produce even skin tone and reduce visibility of minor scarring.
Artistry Essentials Moisture Intense Masque
This lotion contains aloe, cocoa butter and mango to provide instant relief from dry, tight skin. A special "hypo-lipid matrix" unique to Amway skin care products retains moisture in the skin and works to reduce future issues with overly dry skin.
Artistry Essentials Pore Cleansing Mask
Containing copper, magnesium and zinc elements that effectively shrink pores and extracts oil and dirt, this pore cleansing mask also incorporates gentle astringents to enhance skin tone and health. A unique mixture of ingredients additionally helps regulate sebaceous gland production of oil to decrease oil production.
Essentials Hydrating Botanical Spa Collection
Another Artistry skin care product is a collection of lotions and cleansers resembling the kind of treatments you may receive at a spa; such as a conditioning body wash, a body scrub, ultra-moisturizing body butter and a hydration complex serum created to conserve skin moisture. Each item in the botanical spa collection exudes a fresh, flowery scent with a hint of citrus that gives you the feeling you have just been pampered in a real spa.
Prices for products included in the Artistry product line range from $40 for single items to $250-$300 for a set of skin products. They can be purchased from the online Amway market website at http://www.amway.com/beauty/artistry or on Amazon.
Artistry skin care products are expensive but actually do not cost much more than specialized skin care products made by L'Oreal or Revlon. Reviews regarding Artistry creams and lotions are favorable, with many women enjoying problem-free skin and the anti-aging effects promoted by Amway's special line of skin and cosmetic products.
Return from Artistry Skin Care to Home
---
New!

Comments

Please, leave a comment in the box below.