Ethnic Skin Care
Cosmetic issues regarding ethnic skin care primarily involve levels of sensitivity, hyperpigmentation and hypopigmentation. These darker and lighter discolorations, hyperpigmentation and hypopigmentation respectively, appear more frequently in skin belonging to African-Americans, Indians, Asians and other ethnicities possessing skin types that react differently to ultraviolet light.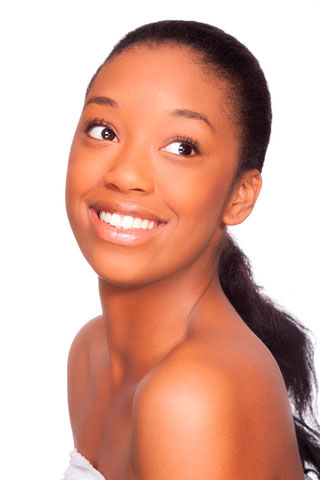 Classification of ethnic skin is implemented by using the Fitzpatrick Skin Type chart, which describes six different skin types:
Type 1—very fair skin, never tans, usually freckles
Type 2—fair skin that experiences difficulty tanning and burns easily
Type 3—light brown skin is slow to burn and will eventually tan
Type 4—medium brown skin is easy to tan and rarely burns
Type 5—dark brown skin that rarely burns
Type 6—black skin that never burns
Indian, Latino and African-American Skin Care
Individuals of African-American, Hispanic or Indian descent have Type 5 or Type 6 skin under the Fitzpatrick Skin Type chart. Tips for this kind of ethnic skin care include:
For dry skin, use moisturizers containing salicylic acid or lactic acid to avoid "ashy" skin. Research suggests African-Americans may experience a higher level of transepidermal water loss than lighter-skinned individuals.
Do not smoke, and do eat healthy foods and drink plenty of water each day.
Although darker skin may not burn, always wear sunscreen when exposed to sunlight for longer than 15 or 20 minutes to protect against premature wrinkling and dehydration.
Unusual spots, blemishes or other skin abnormalities are more difficult to find on dark skin. Carefully examine your face at least once a month for any kind of discoloration, blemish or growth that seems abnormal.
Developing an uneven skin tone is a common problem when dealing with ethnic skin care because such skin naturally contains more melanin. If hyperpigmentation or hypopigmentation occurs, purchase specialized facial creams intended to lighten dark areas and darken lighter areas. Bleaching creams containing hydroquinone and/or tretinoin are effective at eliminating dark spots.
Exfoliate skin to keep it looking fresh, glowing and even-toned.
Clean your face at least twice each day, using a mild cleanser followed by an antioxidant moisturizer.
Type 5 and Type 6 skin tends to be more sensitive to ingredients in popular cosmetics. Use makeup products, specifically formulated for darker skin types, that do not contain harsh chemicals found in regular cosmetics.
Tips for Middle Eastern and Asian Ethnic Skin Care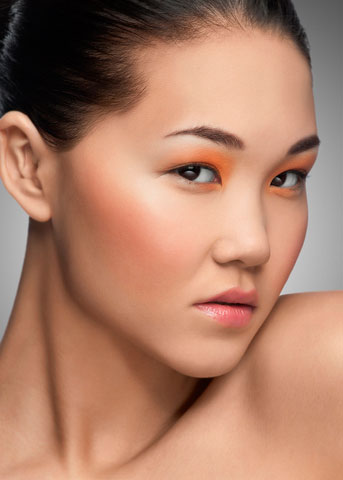 Avoid lotions and creams that are scented. Ingredients providing aromas are usually synthetic and may irritate Asian/Middle Eastern skin or cause discoloration.
Use a moisturizer as often as you like. Choose moisturizers with SPF protection of least 15 as well as hyaluronic acid and antioxidants. Do not use moisturizers containing wrinkle-firming retinol or vitamin A: they have the potential to over-dry skin.
For acne outbreaks, visit a dermatologist rather than relying on over-the-counter ointments that irritate your type of skin. Although pimple creams with benzoyl peroxide may work on white skin, they will probably cause hyperpigmentation on Asian/Middle Eastern skin.
Soymilk eliminates dark spots on light brown skin and restores a healthy glow to tired-looking skin. Soy also reduces oiliness in addition to helping balance skin's normal pH level.
Homemade skin treatments made with natural ingredients provide all ethnicities with ways to relieve skin problems without causing irritation.
Ingredients needed for an effective exfoliating scrub are one tablespoon of sugar, one tablespoon of a soy-based cleanser and one pinch of ground nutmeg or cinnamon. Carefully massage the mixture into your face, then rinse with lukewarm water. Use up to three times each week.
To make a deep cleansing mask, blend one tablespoon of plain yogurt and 1/2 of a thoroughly mashed cucumber. Apply to face and leave it on for about 20 minutes before rinsing. Use two times each week to eliminate dead skin cells and give your face a youthful glow.
Proper ethnic skin care involves avoiding products that may produce hyper- or hypopigmentation and lotions containing unnecessary aromatic ingredients that could aggravate existing acne, blemishes or other skin issues.
Skin Care Based on Your Ethnicity
---
New!

Comments

Please, leave a comment in the box below.
[an error occurred while processing this directive]