Cindy Crawford Skin Care
Dr. Jean-Louis Sebagh created Cindy Crawford skin care products called Meaningful Beauty to provide at-home topical version of his famous anti-aging skin repair treatments. Cindy Crawford is a long time patient and friend of Dr. Jean-Louis Sebagh, and requested the doctor to create a line of products for her that stimulates his popular skin repair treatments performed on celebrities at his offices in Paris, France and London, England.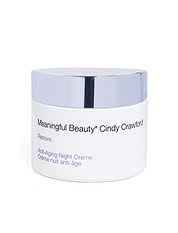 The collaboration between Cindy Crawford and Dr. Jean-Louis Sebagh resulted in the creation of Meaningful Beauty that works to smooth the appearance of wrinkles and fine lines, protects your skin from the sun and environmental damage, and helps preserve the youthful vibrancy of the skin to keep you looking young.
The scientists in south France cultivate rare melons that contain superoxide dismutase, the powerful age-defying super antioxidant used in the Cindy Crawford skin care Meaningful Beauty line of products. The naturally-enriched rare melons contain minerals, lipoic acid, and coenzyme Q10 that helps with natural collagen production to restore the skin back to its youthful appearance. Nourishing the skin with the melon's powerful antioxidant properties delays the aging process and brings vitality back to your skin.
Meaningful Beauty Cindy Crawford Skin Care Complete anti-aging system consists of five steps to restore and beautify the skin:
Cleanse – Skin Softening Cleanser keeps your face clean and refreshed for a younger looking skin without stripping the face of natural oils. The cleanser has mild creamy properties that does not irritate the skin and gets makeup off easily, leaving the skin feeling ultra smooth and moisturized.



Protect – Antioxidant Day Crème SPF 20 protects your face from the harmful UVA and UVB rays, and shields the skin from environmental pollution that dulls your skin complexion. The cream is designed to clarify and brighten the tone of the skin, and balances the hydration of the skin.


Restore – Anti Aging Night crème formulated for overnight use helps with natural collagen production while you sleep to rejuvenate the damage of your skin. Lifting Eye crème pampers the eye area to reduce the appearance of dark circles, crow's feet, and puffiness.


Revitalize – Firming Chest & Neck Crème include antioxidants to help revitalize, firm, and moisturize the often-ignored neck and chest area. Glowing Serum contain proteins that encourages cell regeneration to restore the skin's youthfulness. Wrinkle Smoothing Capsules delivers long- term benefits of skin hydration from within.


Purify - Deep Cleansing Masque contain marine extracts to lift the dead cells away from the skin, reduces stress induced skin factors, and shows amazing results in just 20 minutes.
Customers who have used the Meaningful Beauty products said:
Tried all kinds of over-the-counter skin care products and haven't found one I like as much as Meaningful Beauty.


The containers seem small, but a little goes a long way.


Three-month supply with only one pump moisturizer? Maybe it's enough for younger skin types, but you need more for older skin.


It's amazing how the cleanser can be used without water.


Wasn't satisfied after using Cindy's products for a month so I returned them. The customer service was very nice and promptly refunded my money.


Meaningful Beauty works great as advertised, but is a little pricey for a single mom
Clinical studies show that within six weeks of using Cindy Crawford skin care products, more than 85% of participants reported their skin improved visibly and noticed an overall improvement to the health of their skin. The results may vary depending on the individual's skin and type, but will usually show results within 4 weeks. Meaningful Beauty includes a 60-day money back guarantee if you are not completely satisfied with their products, even if it means that you return empty bottles.
Return to Anti Wrinkle Products
Return from Cindy Crawford Skin Care to Home
---
New!

Comments

Please, leave a comment in the box below.