Manhattan Skin Care
With well over one million people to service, Manhattan skin care establishments must provide a wide range of high-quality and diverse skin care treatments in order to stay innovative as well as competitive. Due to exposure to Manhattan's frigid winters and hot summers, skin damage occurs during months of dehydrating and wrinkle-causing cold air, as well as extended waves of heat and humidity that stimulates oil glands and clogs pores.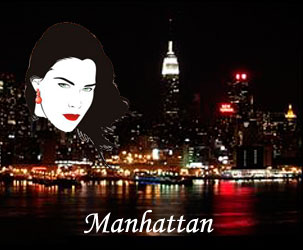 Fortunately, the borough of Manhattan offers both alternative and technology-based skin treatments to accommodate anyone's skin problems.
Located on Broadway between 25th and 26th Streets, Lord and Whisper Skin Care Spa offers a dazzling array of services benefiting Manhattan skin care complications that are also compounded by the level of pollution particles in the urban atmosphere. At this spa, clients receive:
Hydrating and Lactic Acid Facials—Integration of the ingredient coenzyme Q10, an antioxidant inhibiting premature aging and stimulating collagen production, revitalizes skin and leaves it feeling fresh and clean.
Cell Refresh Firming Facial—An excellent facial for mature skin that immediately tightens, lifts and firms the face and neck.
Skin Equalizing Facial—The facial restores skin pH level and eliminates large pores by effectively tightening them. It is a necessary facial for those who suffer from combination oily/dry skin.
Radiant and Bright Facial—This facial benefits any skin type by nourishing unhealthy skin with rich amounts of vitamin C that generate production of hydrating elastin and collagen.
Gold Collagen Mask—Skin instantly looks plumper, younger and smoother when treated with this kind of mask based on hydrogel technology. Actual 24-karat gold flakes included in the mask work on skin molecules by moderating electrons that inflict damage on skin. The Gold Collagen Mask also uses echinacea, bilberry and gotu kola to rejuvenate and reduce the appearance of wrinkles.
In addition, this Manhattan skin care spa offers scar elimination treatments, minimization of ugly broken capillaries in the face and legs and acne treatments that employ deep pore cleansing facials as well as hydration, extraction and exfoliation. Natural skin treatments include a Collagen Algae Anti-Aging Facial and a Red Wine Pomegranate Collagen Anti-Oxidant Facial.
For puffy, dry skin surrounding the eyes, Lord and Whisper Skin Care Spa provides a Gold Eye collagen mask that also contains 24-karat gold flakes working to prevent free radicals from prematurely aging skin and to protect skin from Manhattan's fluctuating climate.
Le Cachet Day Spa and Holistic Skin Care Center represents a Manhattan skin care establishment offering advanced skin treatments involving men's and women's facials, customized European facials, organic skin care products and deep pore peels made from fresh vegetable and fruit components. In addition, professionally trained Le Cachet staff are qualified to give the new Jet Peel facial, found only at this specialty Manhattan spa.
Other Manhattan skin care treatments offered by Le Cachet include:
Microdermabrasion
Skin care specifically for all ethnicities
Acne treatments for adults and adolescents
Lymphatic facial treatment
Photo facial pulse light therapy
Rosacea treatments
Enzyme peels
For clients in need of extra pampering, Le Cachet employs licensed massage therapists trained in Swedish, hot stone, deep tissue and aromatherapy massage techniques. Requesting an appointment online at Le Cachet's website is simple, and confirmation can occur within 30 minutes.
With 30 years of experience in the skin care industry, Dorit Baxter New York Day Spa provides professional skin and wellness spa services that include facials, massages, body wraps and scrubs, waxing and a fully equipped nail salon. Also available are spa specials and packages as well as gift certificates.
New York Day Spa offers a variety of skin care products treating all kinds of skin issues. For example, Soy Night Cream by Dinur Cosmetics nourishes skin and diminishes wrinkles by firming fine lines with a combination of omega-6 complexes and natural soya. Dorit Baxter's own Surface Peel Cream is an exfoliating lotion that eliminates dead skin cell flakes and blackheads and constricts pores to promote smooth, vibrant skin.
Residents of New York City are fortunate to have a comprehensive selection of Manhattan skin care spas and treatments centers from which to discover just the right facial, peel or exfoliation process that can revitalize poor-looking, problem skin.
---
New!

Comments

Please, leave a comment in the box below.