StriVectin Samples
According to marketing legend, it was actually StriVectin samples that started the whole "StriVectin Stampede".
However, today finding a free sample of StriVectin is like striking gold.
The story goes like this . . .
The original cream was formulated NOT as a wrinkle remover cream, but to get rid of stretch marks. Small samples began circulating in the offices of the product's creators, the Klein-Becker research labs. These samples did not come with instructions so employees cheerfully experimented with rubbing it into their faces.

Klein-Becker would have us believe they were delighted and amazed by the disappearance of fine lines and wrinkles, leading to a change in marketing emphasis.
It IS a great story, and Klein-Becker are still running with it today - checkout their website and see the official version of the Samples of StriVectin - scientific breakthrough or dumb luck?
These days it is very hard to get a free StriVectin samples. Sometimes you can pick them up cheap on eBay for $2-$4.
There is also a 2 ounce travel size, sold in packs of 3. Guess what though? The retail price for the total 6 ounces is $135 and they are not in clear packaging for airline travel.
StriVectin Wholesale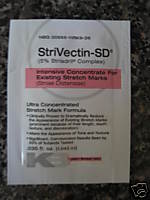 The retail price for 6 oz of StriVectin SD at time of writing was $135.
Sites like Amazon offer prices of $113 - cheaper but not exactly wholesale. It usually turns up on eBay at around $89.95.
You can buy cheap StriVectin by getting a GNC Gold Card and using it for a 20% discount - this brings the price from $135 down to $108.
Or surf the Net. The offers change constantly. It should be possible to get free shipping. Also, check the return policy. You will also save money if you buy from somewhere that gives you a refund if you hate the product or experience an adverse reaction.
Generic StriVectin
Another alternative if you would like StriVectin samples in order to save money is to buy generic StriVectin.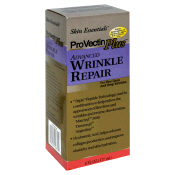 Generic StriVectin contains all the same ingredients as the "real thing" but is sold at a much cheaper price.
For example, Striadril contains the same ingredients as Strivectin and is manufactured by Generix Labs, a subsidiary of the same manufacturer. It is available online for $36.
ProVectin Plus is available at Walgreens $29.99 and is also virtually the same in formulation as Strivectin-SD.
Sure you want StriVectin?
Before knocking yourself out to get a free sample of the stuff, you should know that it under-performed cheap drugstore lines like Olay Regenerist in independent clinical tests. In other words, women got a better result with a $20 product they can buy at Publix.
The outspoken and well respected industry expert Paula Begoun is scathing about StriVectin:
"StriVectin is merely a moisturizer with some good emollients and antioxidants, though the addition of peppermint oil is extremely suspect—the tingle is probably meant to lead women to believe that the product is doing something to their skin. It is doing something: causing irritation without a benefit."
However, one thing we know for sure is that every woman has different skin and may get a very different result from the same wrinkle remover cream, so if you would like to try StriVectin, we hope this helps you to hunt down a sample.
Return from StriVectin Samples to Consumer Report StriVectin SD
Return from StriVectin Samples to Home
---
New!

Comments

Please, leave a comment in the box below.