Olay Regenerist Eye Serum
In case you haven't heard, there is a new Olay Regenerist eye serum in town.
"Olay Regnerist Eye Lifting Serum", to give it it's proper title, is available at the drugstore for only $18.99 - a whole lot cheaper, easier, and safer than botox or any surgical nip and tuck.
Like the rest of the new generation of Olay products, Olay Regenerist Eye Lifting Serum makes some bold promises: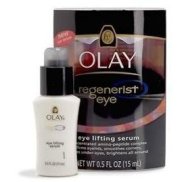 "Notice a complete turnaround in 24 days and all around eye firming, smoothing, and brightening . . . Visibly lifts, smooths and brightens the entire eye area for firm eyelids, smooth corners and even-tone under eyes."
So are these promises fulfilled? Just how good is this stuff?
"Cosmetics Cop" Paula Begoun, probably the harshest critic on planet skincare, rates it as "excellent" with her coveted "Paula's Pick" status. She says it is "state-of-the-art" and "you can't go wrong" with it.
It is also possible to get an idea of what actual consumers are thinking. For example, on Amazon it gets a strong 4 out 5 star rating, and on Epinions it gets 5 out of 5.
Read what Olay says about Regenerist Eye Lifting Serum
However, the thing I place most confidence in is my own personal experience.
It is no secret that on this website I do tend to favor Olay products, specifically the Olay Regenerist line. This is based on direct experience as I get fabulous results from them myself, and also on the positive research reported by independent consumer advocate ConsumerReports.org.
The secret to the power of these new generation Olay products is an ingredient called Palmitoyl Pentapeptide-3. This is also the magic ingredient in $138 a jar StriVectin SD - possibly the world's most successful and publicized wrinkle remover cream ever.
Palmitoyl Pentapeptide-3 is a combo of fatty acids and amino acids and is a breakthrough in anti aging skin care. It stimulates collagen production which is of direct benefit and effect as it is the breakdown of our collagen as we grow older that leads to fine lines and wrinkles.
Return from Olay Regenerist Eye Serum to Olay Regenerist Reviews
Return from Olay Regenerist Eye Serum to Home
---
New!

Comments

Please, leave a comment in the box below.