OLAY Regenerist Reviews
Genuine Olay Regenerist - Read, Evaluate and Decide
These Olay Regenerist reviews support my personal experience of Olay as a wonderful product and a superior wrinkle remover cream.
I discovered Olay Regenerist 3 months ago and am delighted with the results, particularly given the fact that these are $20 products I can buy at Publix.
My sister remains devoted to expensive La Prairie skin care, spends many $100s of dollars, and still looks 10 years older than me, instead of the correct chronological 3 years.

On Wrinkle Remover Cream.com we are dedicated to providing you with objective, independent, third party information, based as often as possible on scientific research. We do not make or sell our own wrinkle remover cream - rather, we are in the information business.
However, if you are a regular reader you will notice that Olay Regenerist is a product I often refer to and obviously favor. This is because I have had great results personally, and because there is so much other evidence as well.
Please read some Olay Regenerist reviews for yourself and come to your own conclusions.
How I discovered Olay Regenerist
I swapped to Olay from a MUCH more expensive product as a result of research I came across while building this website.
In 2007 ConsumerReports.org, an independent consumer advocate, partnered with a French consumer organization and conducted extensive trials on a wide range of wrinkle remover creams. These were all popular anti-aging products that varied a lot in price and marketing approach. Some were $200 designer offerings like La Prairie, some were so-called state of the art cosmeceuticals with very hi-tech, pseudo medical images, and some were drugstore brands such as Olay, Nivea and Neutrogena.
Guess what? $19.99 Olay Regenerist came up as the number one performer.
See Olay Regenerist reviews and consumer research
Other Oil of Olay reviews
I like seeing the science, but you can also learn a a lot from seeing what personal opinions ordinary women are sharing with each other over the Internet.
There are many, many sites that post product reviews. Looking at a couple of the big ones, for example Amazon, you can see the Olay Regenerist reviews are overwhelmingly positive, with an average customer review of 4.2 out of 5 stars at time of writing.
The expert reviewers have some good things to say as well.
Paula Begoun, the "Cosmetics Cop", rates all of the following as "Excellent" and awards them the coveted "Paula's Pick" endorsement: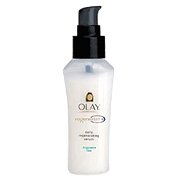 1. Regenerist Daily Regenerating Serum ($18.99)
2. Regenerist Daily Regenerating Serum, Fragrance-Free ($18.99)
3. Regenerist Enhancing Lotion with UV Protection SPF 15 ($18.99)
4. Regenerist Eye Lifting Serum ($18.99)
5. Regenerist UV Defense Regenerating Lotion SPF 15 ($18.99)
(I agree that the Olay regenerist eye serum is particularly good, although the regular Regenerist serum is much cheaper and almost identical.)
Jeffrey Dover, M.D., one of the world's most prominent dermatologists, also has some some very positive Olay Regenerist reviews in his wonderful book, "The Youth Equation: Take 10 Years Off Your Face". In particular, he recommends:
1. Olay Regenerist Daily Thermal Mini-Peel
2. Olay Regenerist Daily Regenerating Serum
3. olay Regenerist Derma-Pod Eye System
4. Olay Regenerist Micro-Sculpting Cream
5. Olay Regenerist Deep Hydration Regenerating Cream.
(The other drugstore products Dr Dover tends to think well of include the Skin Effects products, and Neutrogena.)
Closing thoughts
I was not always an Olay fan. The first allergic reaction I ever got to a skin care product was over 30 years ago as a teenager trying their ubiquitous Oil of Olay, or "Oil of Delay" as our moms may have fondly called it. What a horrible product! Paula Begoun dismisses it as "a soft pink lotion", "badly formulated", and "out of date from the moment it was launched". Eeeck! You can read about the evolution of Olay on www.Olay.com.
Olay Regenerist reviews come from experts and consumers.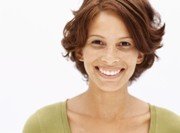 AND PLEASE REMEMBER: Wrinkle remover cream studies show that different women get different results from the same product.
Not ALL women got a better result from Olay than from the other creams they tried. This is because every woman is different.
Also, the most one can hope for is a reduction in the appearance of sun damage, wrinkles, and so on - sadly, there is nothing in a tube or a jar that will make wrinkles disappear completely.
Return from OLAY Regenerist Reviews to Home
---
New!

Comments

Please, leave a comment in the box below.
[an error occurred while processing this directive]