RoC Cream
RoC cream has been revealed as a "winner" by Consumer Reports.
Recently an independent study by ConsumerReports.org examined a range of wrinkle remover creams.
This was to investigate whether ANY of these products lived up to their promises.
The products were divided into three categories:

Slightly more effective overall


Average Performance


Slightly less effective
And guess what? RoC Retin-Ox+ was one of only three well ranked creams in the top group of the more effective products.
In other words, Retin-Ox, available for around $45 from the drugstore, rated higher than more expensive products such as LA PRAIRIE Cellular ($250 upwards) and StriVectin SD ($135).
Sound too good to be true? Well, in a way it is. You see, RoC markets different products in different countries.
For example, RoC Canada has different (and better) formulations available than RoC US. The Consumer Reports research was actually conducted in Europe and RoC Retin-Ox is NOT a RoC US product line. Instead, it is available in places like Australia and the UK - or in the US if you have it shipped internationally.
The US RoC flagship wrinkle remover cream is its Retinal Correxion line.
Sadly, RoC Retinal Correxion Deep Wrinkle finished in the bottom third of the ratings and was found in the research to be "slightly less effective" than most other products tested. Eeeck!
Cosmetics Cop Paula Begoun agrees that Correxion Deep Wrinkle is "average" at best and says it contains "nothing special". Her verdict is that it is just a basic moisturizer, lacking sufficient retinol or antioxidants, especially for the price.
Where RoC DO excel is with their hand cream. Paual Begoun, Allure Magazine, and various celebrities and beauty editors all endorse Retinol Correxion Hand Repair SPF 15 as one of the best anti aging hand creams available.
RoC eye cream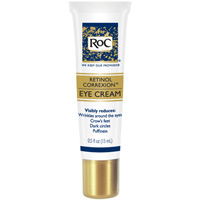 It is not just with their excellent hand cream that RoC redeem themselves.
In 2006 The RoC eye cream, RoC® RETINOL CORREXION® Eye Cream, won the prestigious CEW award for best new eye treatment. (It has since been beaten out by Regenerist Eye Derma-Pod Anti-Aging Triple Response System, but that is another story.)
Also, despite her usually scathing criticisms of the company, Paula Begoun also has rated this product very highly.
This is a hypoallergenic and clinically proven treatment that visibly reduces wrinkles around the eyes and crow's feet in 12 weeks.
The secret is a powerful combination of retinol and antioxidant vitamins, including generous amounts of vitamin C.
At $24.99 this RoC eye cream is a great deal. My personal preference is to go for a different product that does not have fragrance as the cream is applied to the eye area, but if you are not super-sensitive you should be ok, and the results have been shown to exceed those of many much pricier offerings.
RoC eye cream ingredients and usage tips
RoC face cream
So they have a great hand cream and a great eye cream. However, what is most women's number one concern?
They want the facts on RoC face cream!
Is there a RoC cream that is a proven wrinkle remover cream for the face?
Happily, the answer is YES! The RoC Multi-Correxion Night Treatment ($24.99 for one ounce) is a lovely silky serum very similar to their eye cream with lots of retinol, antioxidants and other goodies. This is easily the best RoC cream.
Discover why RoC face cream with lots of retinol work best.
This is definitely the best RoC face cream buy and will deliver good anti aging results. It is a much better product than the ROC Retinal Correxion Deep Wrinkle, and all you need to do is stand in the drugstore and compare the ingredient list to understand why.
Return from RoC Cream to Highest Rated Wrinkle Cream
Return from RoC Cream to Home
---
New!

Comments

Please, leave a comment in the box below.